Buy League of
Legends Account
We are a trusted source for League of Legends accounts. Skip the boring unranked matches and start dominating ranked play now!
Choose an account now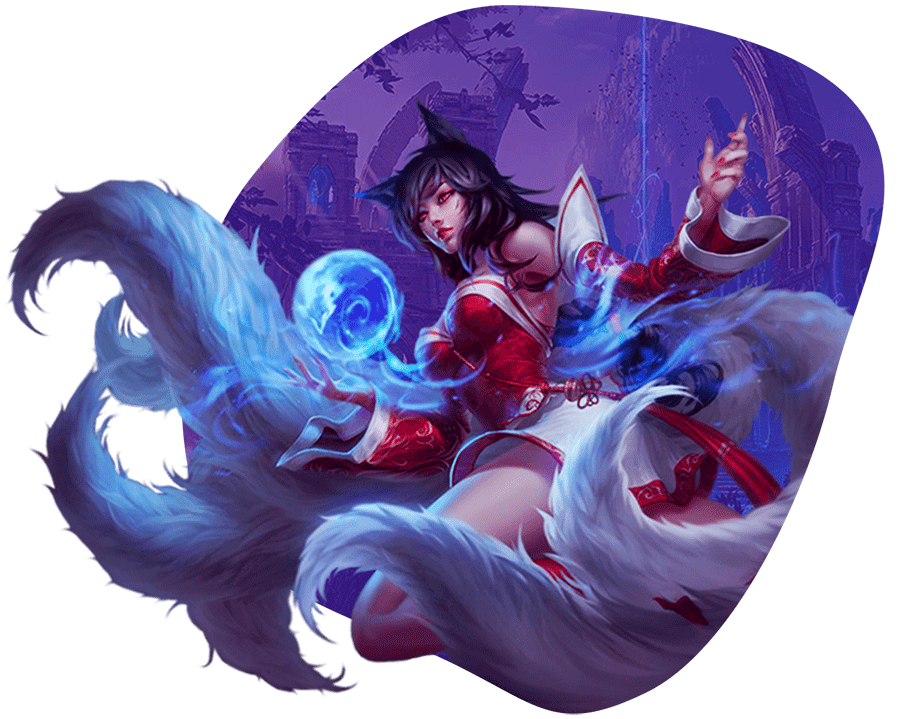 3.Review your account
Verify your own email to the account
Benefits of Buying an Account from AussyELO
We care a lot about making quality accounts and creating trust with our customers. The benefits of buying a League account or a Valorant account with us is that we offer secure payments, instant account delivery, lifetime warranty, and around-the-clock customer service.
Instant Delivery
Upon purchase, you get the account details instantly in your specified e-mail address, with instructions on how to change the password and attach your own e-mail address.
Customer Support
Come say hello! We have a friendly and helpful support team ready to answer your questions about our services and everything about League of Legends accounts!
Lifetime Warranty
We offer a lifetime warranty for all accounts that we sell. If something happens to your account, please send us an email message or contact us via discord. If you reach out to us on our discord server we will be able to assist you much faster.
Safe & Secure Payment
Our site is secured using SSL technology and uses Stripe for payment processing. All the data is done on Stripes side and protected by their service.
Purchase Your Next
LoL Account With Confidence
Why Buy A League Account From Us?
If you need a LoL smurf account for any reason, this is the place to buy it! We make it simple to purchase a fresh level 30 account that comes with 40,000 to 100,000 BE. You can use this BE to buy your own champions and runes. Your Account will be eligible for ranked play once you buy 20 champions. Whether you need a new LoL account to smurf on or you're just sick of the leveling, AussyELO is the place for you.
We Take Care Of The Leveling So You Can Rank Up Faster
The grind to 30 is known as one of the more tedious parts of League of Legends. With our help, you can have a lvl 30 account within 5 minutes of reading this page. All LoL accounts we sell have already been leveled up to 30 for you. We consider this doing the hard work so you don't have to. All of the accounts we sell were leveled via ARAM / Co-op Vs AI. No email has been registered with any of the accounts, you simply register your email upon delivery and it will be completely yours!
Affordable League Of Legends Account For All
We understand that one of the most important parts of shopping around for an account is the price. As a result of this, we are constantly comparing our prices to the rest of the industry in order to keep our prices among the lowest. We also provide a sizable amount of Blue Essence with each account so you can pick the champions you want and start gaming instantly. This combination of value is unmatched throughout the industry.
A Trusted LoL Account Seller
Whether it is your first time, or your 20th time buying a League account, there can be a lot of uncertainty when it comes to the transaction process. When it comes to account buying, AussyELO hopes to give our customers peace of mind by providing them with all the coverage they will need. From our instant delivery to our lifetime warranty, you can feel confident that you will get what you pay for, and then some.
The Benefits of Buying Your
LoL Accounts at AussyELO
Why Buy A LoL Account from Us?
Just like anything in life, there are risks of buying cheap lol accounts. Here at AussyELO, we strive to make sure that all our customers' purchases are risk free. We use the latest technology to provide genuine unranked league of legends accounts. While other smurf account sellers do not offer guarantees for the accounts you buy from them, we offer you a 100 percent guarantee for accounts you buy from us. There's literally no safer place to purchase a LoL account than at AussyELO. Now let's look at some of the main risks of buying an unranked LoL account and how you can minimize these risks.
What is a LoL Account?
Smurf accounts have been around since the emergence of online gaming. The first Smurf account is believed to have been created in the 90s. Smurf accounts have increasingly become popular since then. Nowadays, there are smurf accounts for nearly every online game, including League of Legends. A LoL smurf account is just another account that allows you to play under a separate name. Since you'll have no reputation to live up to, you can go a bit wild and play different than your regular play style. This allows you to enjoy the game even more..
Why Should You Buy LoL Accounts?
You may be wondering why you should buy lol smurf accounts if you can simply get one for free. The truth is that there's no such as thing as free unranked lol smurf. Well, there are actually many reasons why people choose to buy league of legends account rather than making one themselves. Here are some of these reasons:
It is Faster Than Leveling Naturally
One of the top reasons players buy a LoL account is that it saves them to time to level the account up naturally. Currently, you need approximately 20,042 XP to get to level 30. Without any booster packs, each game will give an average of 90 XP per match. This means that you will need more than 90 hours to reach level 30 assuming that every match will take at least 25 minutes. Instead of spending all this time leveling, why not buy a League of Legends account for around $26 and focus on your ranked games and this is the the best place to buy LoL accounts.
How To Place An Order
While we pride ourselves on awesome customer service, high quality accounts, affordable prices, and a lifetime warranty, we also take a lot of pride in our ordering process. For those who have ever had to deal with a challenging ordering system when buying a League of Legends account, we've completely simplified account buying into a 4 step process that can have you gaming on your new account within 5 minutes. Here's all that you need to do:

Choose your game and server
Select the account type you wish to purchase
Review the Account order
Proceed to Checkout
Once your order is placed you will instantly receive the account details via email. All orders come with a lifetime warranty so you can be confident that you will be ordering an account that lasts. We are happy to help out with any issues that may arise before, during, or after the transaction. Please join our Discord if you need to get in touch with a real support employee who can answer all of your questions.


Frequently Asked Questions
Can I Get Banned For Smurfing In LoL?
No. You will not get banned for smurfing alone. In fact, many pros buy League of Legends accounts to smurf on and will even use the smurf account on Twitch or Youtube in front of thousands of people. We very rarely hear of our accounts being banned for smurfing, and when they are, we are happy to provide you with another one.
Can I Choose The Name For The Account?
Unfortunately, you cannot choose the name. This is because the accounts we sell have already been leveled to 30, and we needed to select a name in order to level them. We use names to help encourage a low profile for our accounts.
How Long Will It Take For The Account To Be Delivered?
Your account information will be sent via email right away after your order. If you do not see it, please check your junk/spam folder. If you still don't see anything after 5 minutes, please hop on our discord (https://discord.gg/8TSY4ns) and send us a message. We'll figure it out for you.
What makes your LoL accounts safer than the rest?
First, we don't mass bot accounts and instantly put them up for sale, they sit for months before even being sold. Secondly, we make the accounts ourselves so no one else will know the account name beside us and you.
I have a question about purchasing an account or I have an issue, how do I contact you?
You can contact us at discord, it's the fastest way to get help instantly.
What PEOPLE SAY About Us
We understand that real feedback matters in your decision-making process. Check out what previous customers have to say about us!
Couldn't be more satisfied with my purchase. Payment process was a breeze. Got my account instantly and was able to play it with zero issues.
Brent K
Excellent customer service! It's my first time buying a League of Legends account, so I had no clue about the entire process. The customer support team was more than happy to help and make sure I'm satisfied with my transaction.
Michael C
Wanted an account to duo with my silver friend who was begging me! Able to have 2 full rune pages + my main champions with 1 or two champions I want to experiment with within 10 minutes! Greatjob
Jesse O
Subscribe Now
Be the first to know about our service updates and offers.
Sign up for our mailing list so you don't miss out on anything!